Advanced Admin Columns for JetEngine
JetEngine Plugin for Elementor is an All-inclusive toolkit to build a Dynamic Website Structure. JetEngine offers a wide range of tools to create Custom Post Types, Taxonomies, Meta Boxes, Custom Fields, User Profile fields, and more.
JetEngine together with Admin Columns Pro
The JetEngine integration for Admin Columns Pro allows you to create columns for all your Meta Fields created with JetEngine. Together with our features like Smart Filtering, Editing, Export, and Sorting you will become much more efficient to manage your data in the WordPress Admin.
Display JetEngine fields as columns on the list table
Create columns for the admin list tables for all your fields defined in JetEngine Meta Fields or Meta Boxes. Whether the fields are created for the default WordPress List Tables, Custom Post Types created by JetEngine, or by any other plugin, Admin Columns got that covered. And of course, all Field types available in JetEngine are supported: Text, Textarea, Date, DateTime, Time, Wysiwyg, Switcher, Checkbox, Iconpicker, Media, Gallery, Radio, Repeater, Select, Number, Colorpicker, Posts
Smart Filtering JetEngine fields
Find any data entered for your JetEngine fields with our Smart Filtering feature. No matter what type of fields you have defined in JetEngine, we made sure that you are able to find records with specific content entered for your fields. Here are some examples on how you're able to use our Smart Filtering feature for the JetEngine Fields:
Search specific words or strings in Text fields
Search for an exact number or a number in a range for Numeric fields
Search specific date or date in a specific range for Date and time fields
Search for choices in choice related fields like Select Boxes, Checkboxes, or Radio Button fields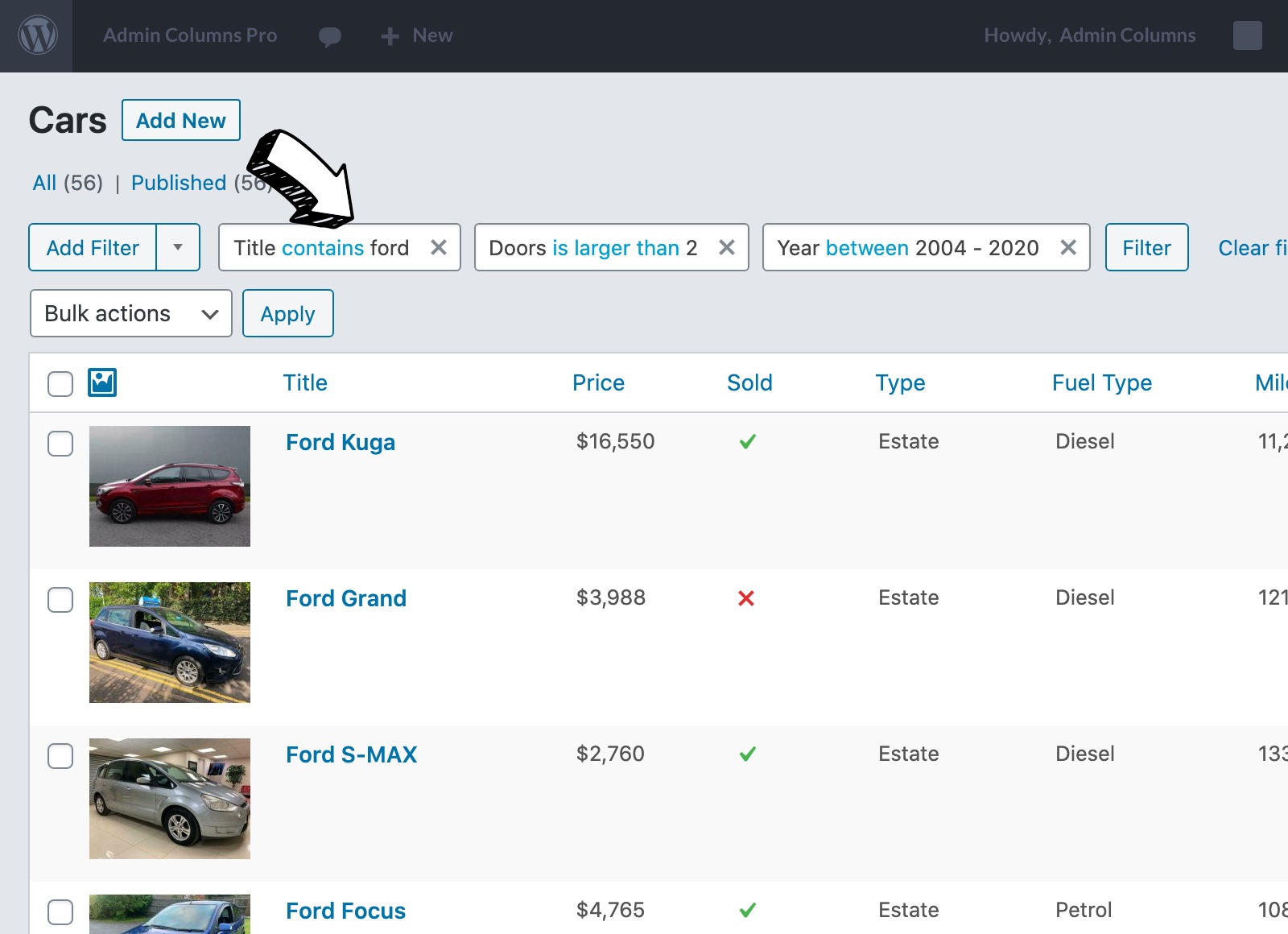 Quick Edit JetEngine fields
Edit all your JetEngine fields directly from the list table instead of opening each post with our Inline Edit feature. Inline Editing can be a huge time saver when editing your data.
Each field type has its own input field to edit the data and works similarly to editing the fields on the form on the specific detailed edit page. Text fields will have a default text field while Choice fields like select, checkbox fields will have a dropdown to edit the data.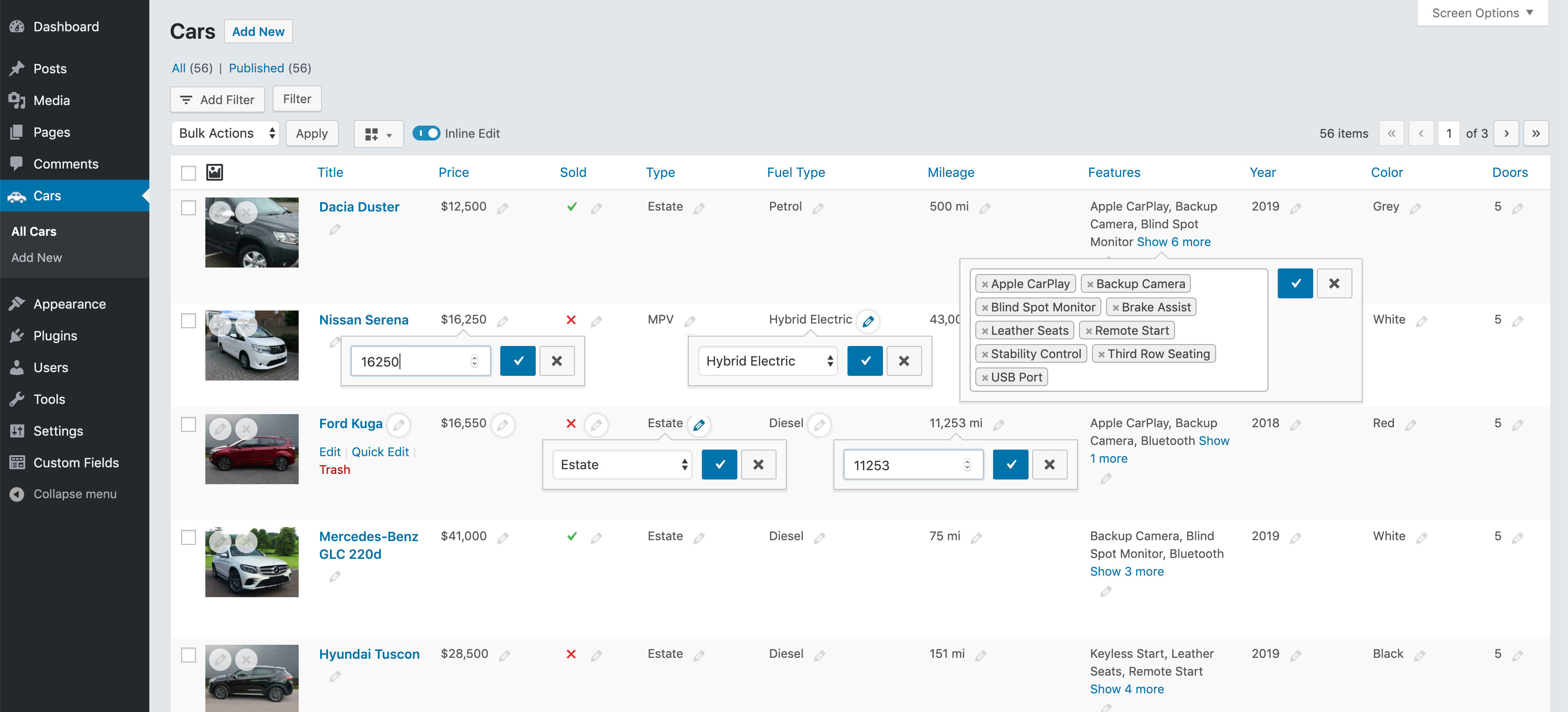 Bulk Edit JetEngine fields
Aside from quick editing single fields, Admin Columns also offers a way to Bulk Edit fields for multiple items at once. Our Bulk Edit feature works over multiple pages and takes any filtering actions into account. So if it is 15 records or thousands of records you want to edit, our Bulk Edit feature is the tool you need!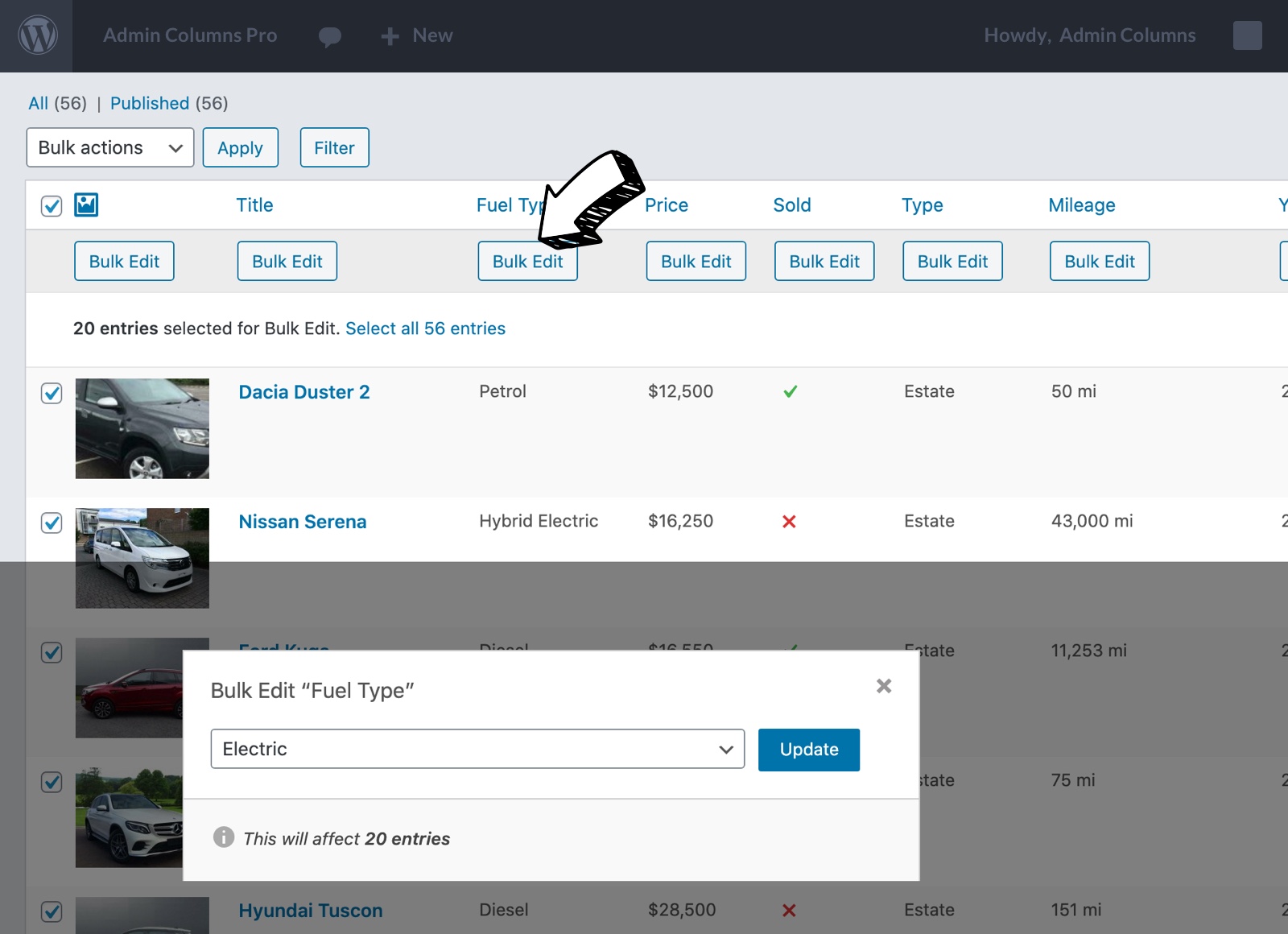 Export JetEngine field data to CSV
You can easily export all the records from the overview to a CSV file. All the items that are affected by filtering and sorting will be exported, so this makes it great to only export data for specific posts with specific data.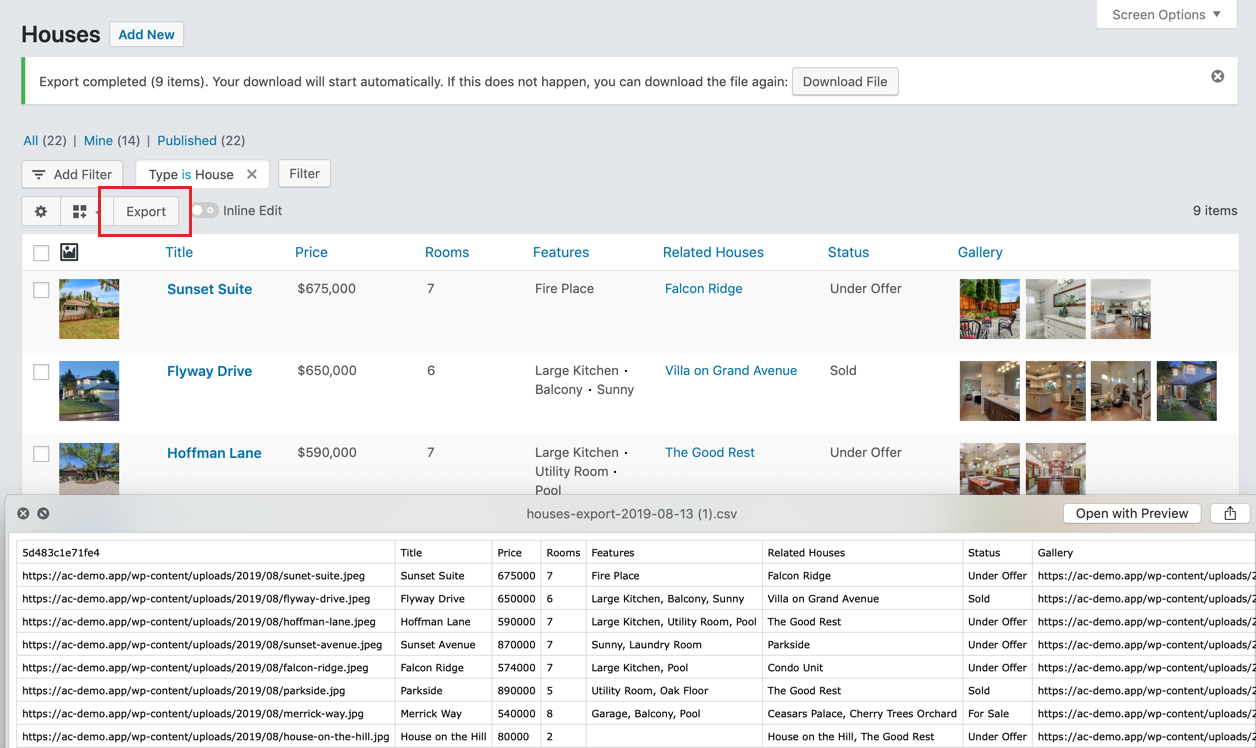 Columns for JetEngine Relationships
JetEngine comes with a feature to create relationships between post types. With JetEngine for Admin Columns, you can easily create columns for those relationships on the related Post Types list tables. With our pro features, it will be a breeze to see, find and even manage your relationships directly from the list tables. And all relation types like One-to-one, One-to-many, and many-to-many are supported.