Table Views: Create multiple views for any WordPress list table

Every time you visit the Posts list table you see the same set of columns. But, when you perform different tasks on your website you might want to see different information. For example, when working on SEO you need to see the keywords and meta descriptions for easy editing. When writing content you want to see detailed information, such as the length of the articles and reading time. You can now have a unique table view for each task or role. With our Table Views feature you can create separate views for your data and easily switch between them!
A table view for each task
There are many different tasks you can do when managing your posts. Each of these tasks requires you to see different types of information. When your list table contains too much unnecessary information it becomes cluttered. By only showing relevant information you will be able to manage content easier.
For example, when improving SEO information you like to see the meta description, link count, and keyphrases all in one view. Making it much easier to spot mistakes or make quick updates using inline edit.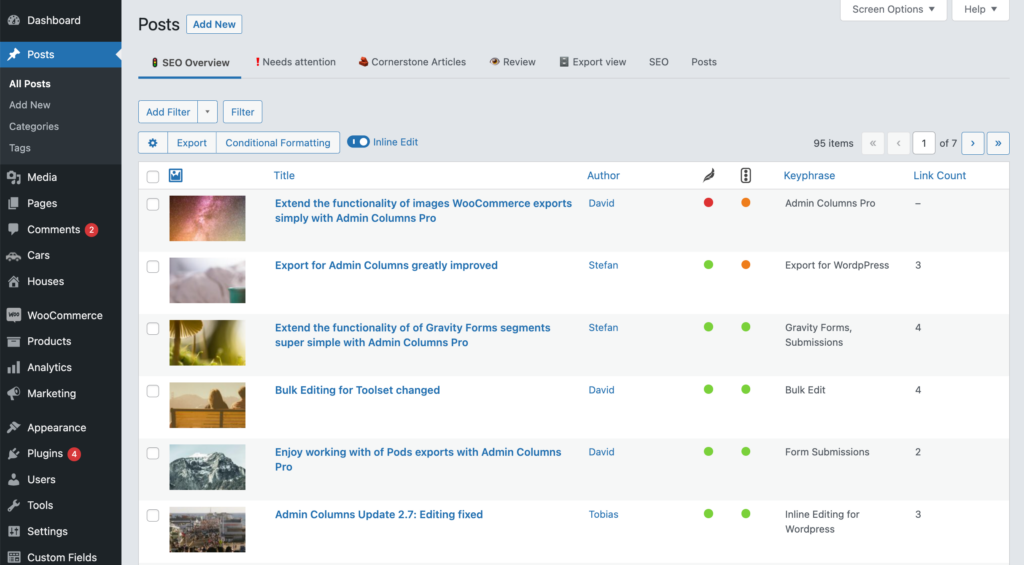 Another task might be the reviewing of articles. Do all articles have a featured image? What is the length of each article? Then this would be a much more useful table view: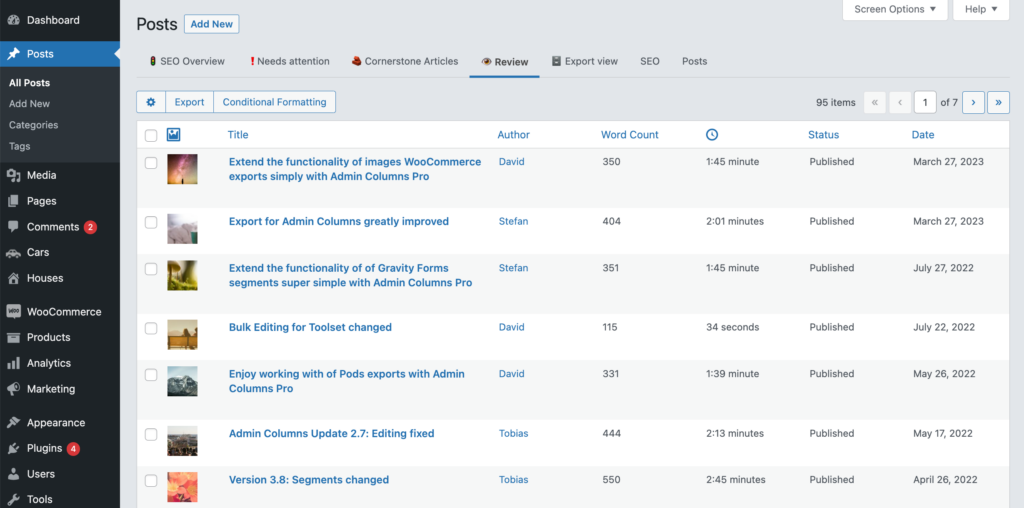 And when organizing posts you like to easily assign categories and tags. Or when you need to further analyze your data and want to create a custom export: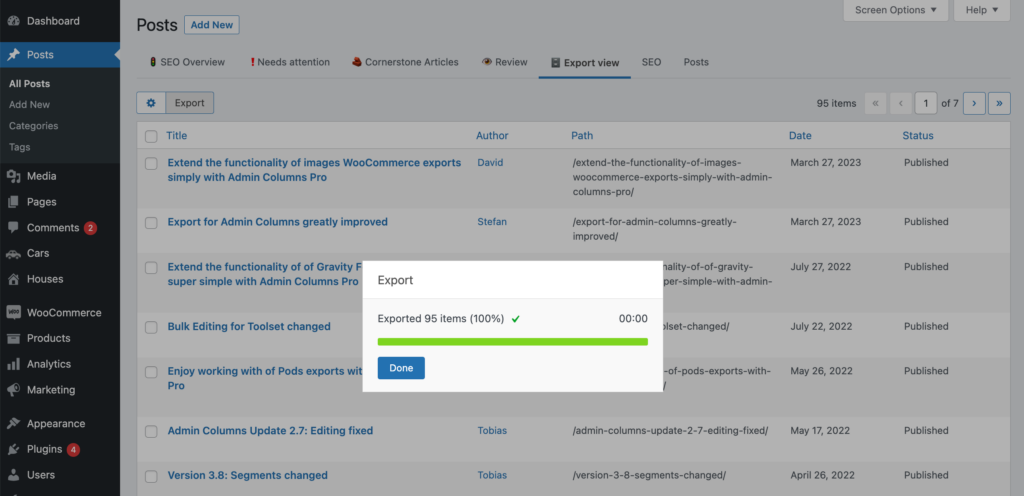 You can create a table view – with a different set of columns or hide components you do not need – for each one of those tasks and easily switch between them. Name them as you like, you can even use icons in the name as we did in the examples.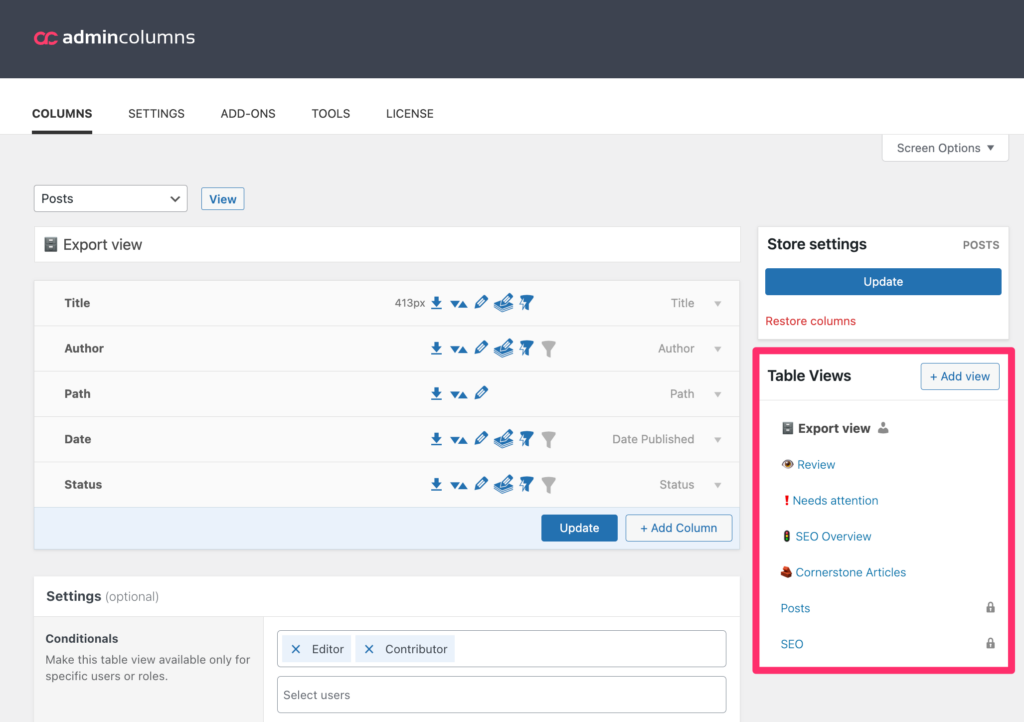 Assign a set of columns to a user or role
Columns that are meaningful to you, might not be meaningful to other users. You can use Table Views to control what columns users can or cannot see. Conditionals can be applied to a single user, multiple users or user roles such as "Editor" or "Author".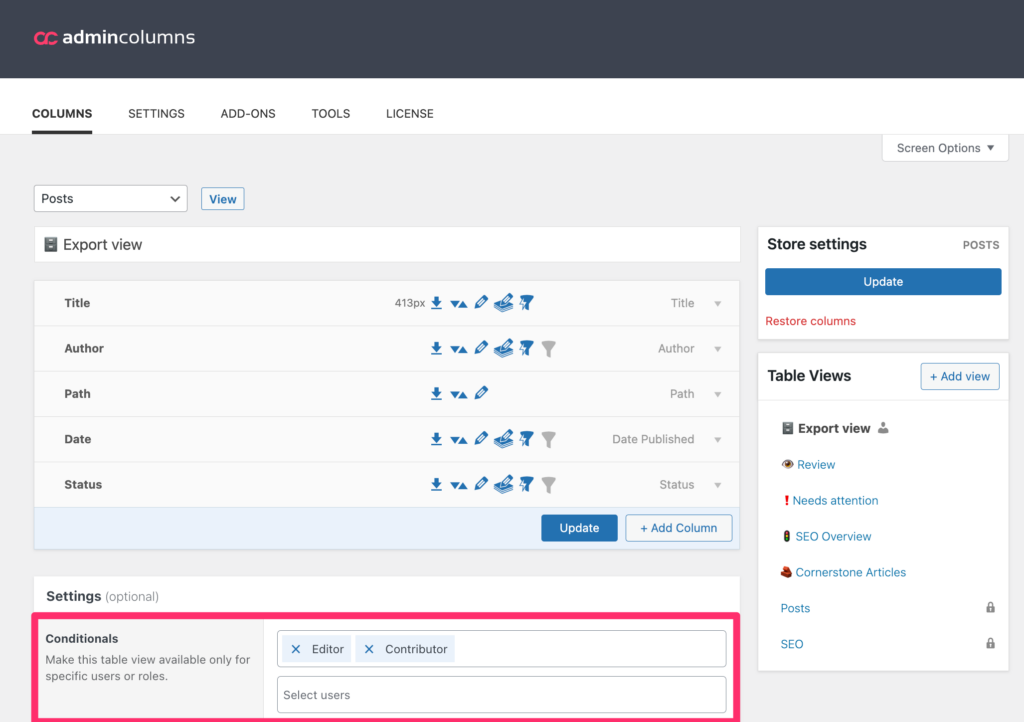 Available for any WordPress list table
Table views are available for these list tables: Posts, Pages, Custom Post Types, Taxonomies, Users, Media and Comments.
Horizontal Scrolling
Be sure to check out our horizontal scrolling feature too. If fitting many columns on your screen is your primary challenge, Horizontal Scrolling is made especially to solve just that. Of course, you can use both Horizontal Scrolling and Table Views. It's up to you :)
How to create table views
Eager to get started? Watch our short instructions video on how to create table views with Admin Columns Pro:
What are you waiting for? View our affordable plans.