Advanced Custom Fields
Integration with Admin Columns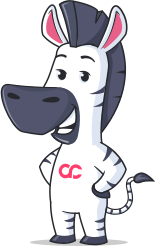 Display Custom Fields as Columns
Admin Columns allows you to display ACF custom fields for posts (post meta) and users (user meta) as columns on your list overview. With many different custom field types supported, such as files, images, numbers, and dates you can create a beautiful overview of your custom content!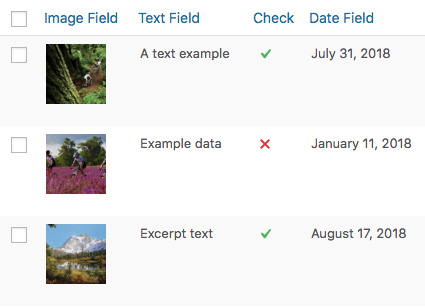 Admin Columns Pro is a super intuitive life saver!
Admin Columns PRO
Create columns that can sort, filter, edit & export
Sort and Filter on ACF Fields
We know how it goes: the more ACF Fields and content you add, the harder it gets to find the post or page you are looking for. By enabling filtering and sorting for your ACF columns, you can easily find and group posts with a specific ACF value.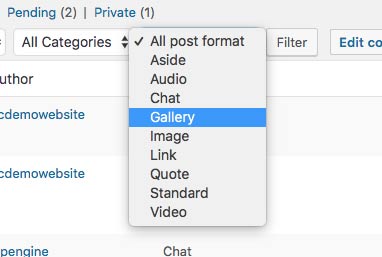 Inline Edit your ACF Fields
Edit your posts without opening them. With inline edit, you can edit your ACF Fields directly from the post overview page. Want to change a Post Relation, Select Field, Gallery Field or a default Text Field? Just click 'Inline Edit' and you can edit pretty much all of your ACF Fields faster than you can say "Admin Columns".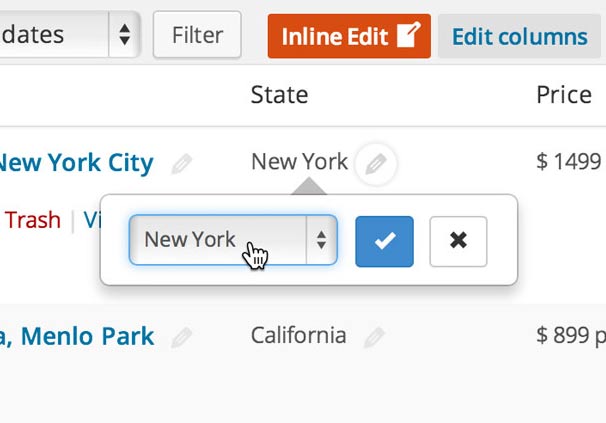 Export ACF Fields to CSV
With the export feature of Admin Columns PRO, you can create your own custom exports of your WordPress content in a CSV format. You can export a custom selection by filtering and sorting your content first.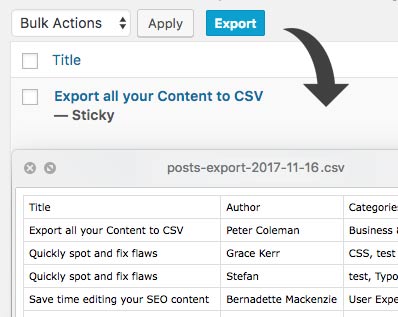 Create column Sets
Do you have a lot of ACF fields that you want to show as columns, but is your screen too small to fit all the columns? With columns sets, you can create different views of your screens in seconds. Create different screens for ACF fields that goes well together and easily swith between those sets with a drop-down menu.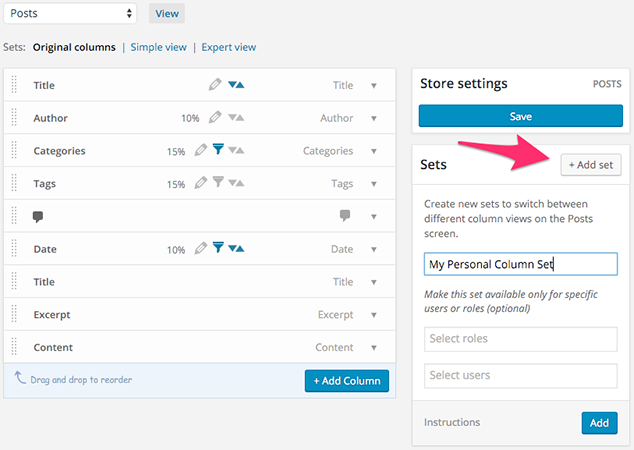 Enjoy the benefits of PRO
Admin Columns
Display Custom Field content
Display relational content for custom fields
Sort & Filter all your ACF content
Directly edit your ACF content from the overview
Bulk edit your ACF content
Export ACF content to CSV
Create multiple views for the same table
1 year of updates and support
Admin Columns PRO
Display any ACF content
Works on Posts, Users, Media and Taxonomy screens
Display relational content for custom fields
Sort & Filter all your ACF content
Directly edit your ACF content from the overview
Bulk edit your ACF content
Export ACF content to CSV
Create multiple views for the same table
1 year of updates and support