Upcoming Admin Column Pro Features
This month we have been working on some cool improvements with new Admin Column Pro features.
Different screen sizes
We have improved the way your columns look on different screen sizes. When you add more columns to your overview, you might run out of space on your screen. It becomes a trade-off between making your content more readable and leaving out certain columns. That is not ideal of course. In order to overcome this possible limitation by the screen, you can enable Horizontal Scrolling. This feature will automatically set the width of each column based on its contents and ignore the size of the screen. And, as the name of this feature implies, you can scroll horizontally to view all your columns.

This works really well. The only issue is that it was not very clear that you could horizontally scroll the table. That's why we are adding a visual indication that you can scroll left and right. In the next release, a horizontal scroll bar will appear on the bottom of your screen if the columns do not fit the screen. If your columns do fit within your screen, the horizontal scroll bar will not show.
You will be able to enable the horizontal scroll bar as a default for all your users. With this option enabled your users will see a nicer looking table with their columns adjusted to their screen size.
A user can always disable horizontal scrolling if they rather see the fixed-sized columns. Under "screen options" they can toggle it on or off.

Oh, and it's a native scrollbar. So, with an Apple magic mouse, for example, you can simply swipe left and right. And a standard mouse, you can to hold CTRL + scroll wheel.
Set your own default sorting
One of Admin Columns Pro's best features is its ability to sort your content. You can simply click on the column header to sort it ascending or descending. There is also an option to reset the sorting to the WordPress default, which usually the title or the date. Many of you requested to have control over what this default would be. So, we added the option to set your own default column to sort by per overview.

When a user visits the table for the first time it will be sorted by the column you selected as the default. Users can still sort by any other column by clicking the column headers. And when a user revisits the table it will still be sorted when the last visited it. But when they choose to reset their sorting it will sort by the column you selected as the default.
Hide items on the list table
We are giving you more control over what is visible on the list table. You will be able to hide items from the list table that you do not want your users to see.

The result is you have a list table that is better suited for its task. If you do not need search, inline edit, bulk edit or export, you can now simply hide it from your users. Create a better user experience when visiting the list table by hiding the functionality you do not need.
Conditionals
The way you assign users or roles to a specific column set has been moved to the settings pane, below the column settings.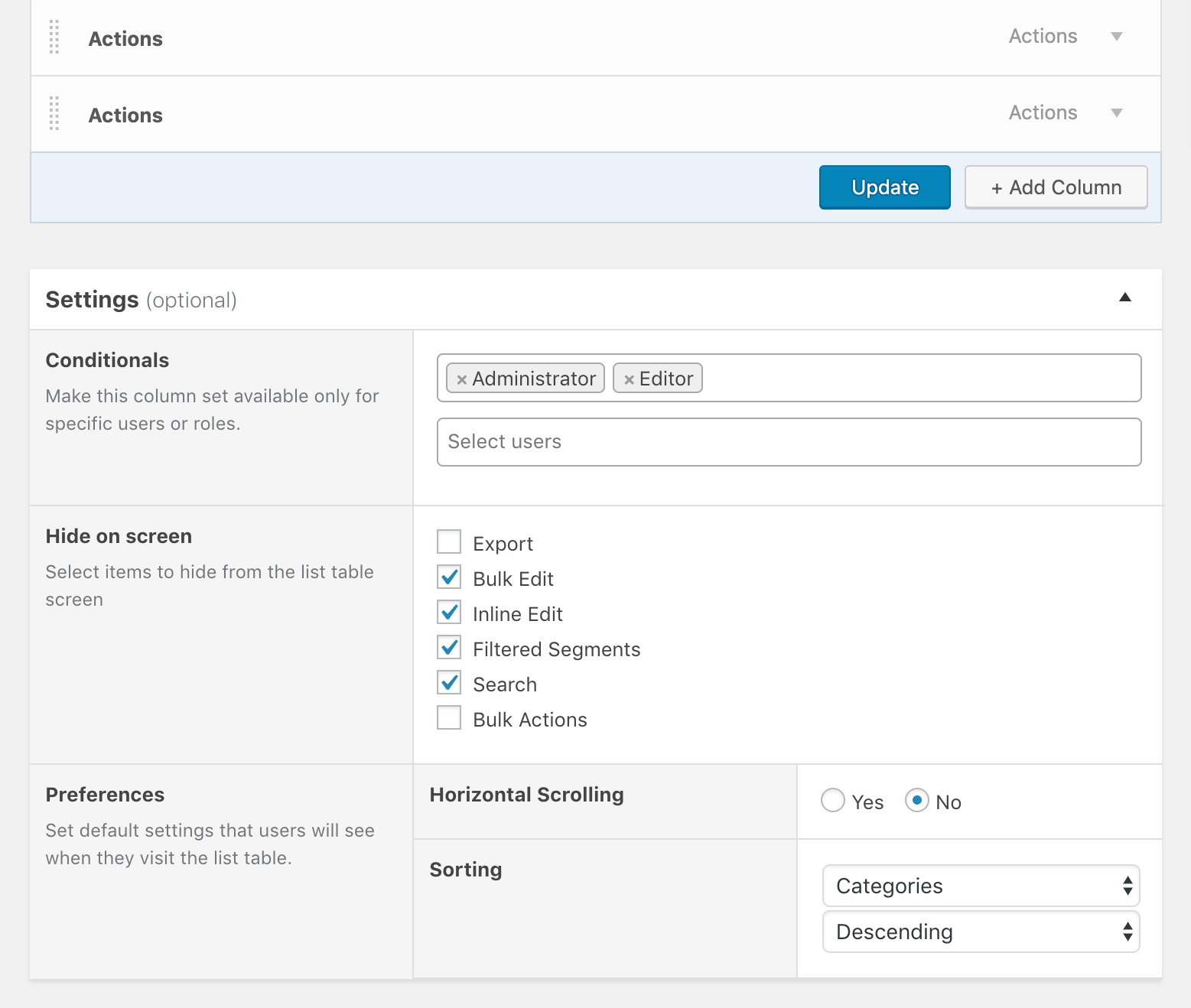 If you are new to conditionals here is a short explanation. With the help of Table Views, you can create multiple views for the your list tables. You can make such a view available to a specific user or role. Other users or roles won't be able to see this view. This comes in handy when you have users assigned to different tasks when doing content management.
Release Date
When will it be released? We are aiming for the beginning of February.