How to Bulk Edit Product Variations in WooCommerce: Our Tips for Success
Are you the owner of a WooCommerce business? If so, you might be managing hundreds of eCommerce products at any one time – especially if your products come with variations.
With so many items published on your website, editing quickly becomes a time-consuming activity.
Say, for example, you're managing an online store that's selling over 250 different t-shirt designs. But, your large blank t-shirts haven't arrived from your supplier, and so they can't be printed to order. In that case, you would have to remove the 'Large' product variation from all your t-shirts. That's over 250 product entries to manually disable and re-enable once your stock has arrived.
…that's a lot of work.
Alternatively, imagine you're selling just a few t-shirts, but each of them is available in ten different colors. Then, let's say you want to increase the price for all of these variations? Even with just a few base items, this is going to take over 60 clicks!
These are just two out of many potential scenarios that highlight how time-consuming manual editing is.
The solution? WooCommerce bulk editing
Bulk editing streamlines the kinds of repetitive tasks described above. With just a few clicks, you can make the same change across as many product variations in your WooCommerce store as you like.
How to Bulk Edit Product Variations Using WooCommerce's Native Interface
In WooCommerce, their default product editing looks like this: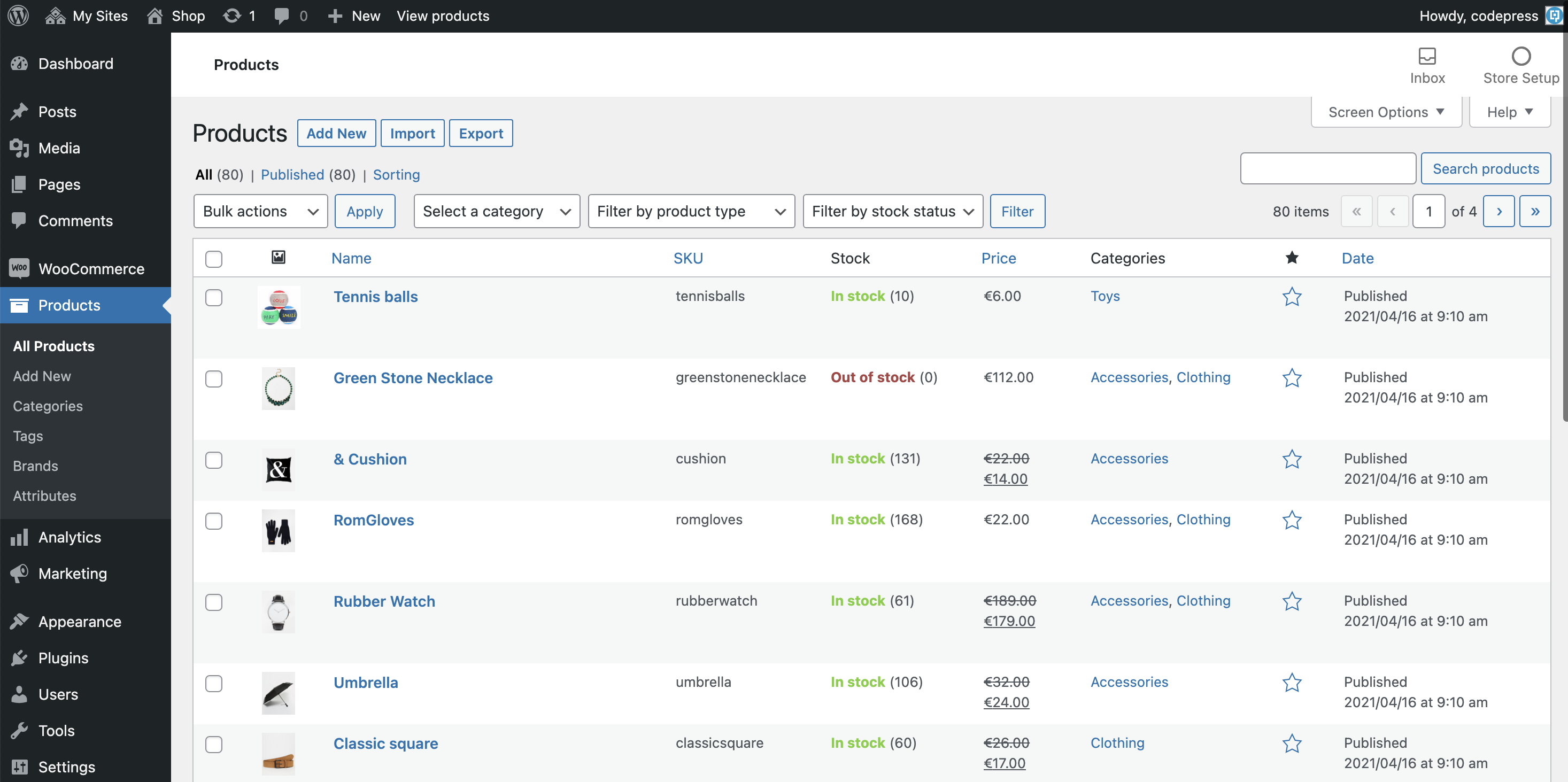 You have to manually open each product page to edit all the product data. This is okay if you're making significant changes that are specific to that one product. However, this soon becomes time-consuming if you just want to change a little detail, like a single tag. The process is also prone to error, as you don't get a good overview of the process as a whole.
On top of that, WordPress also makes it possible to quickly edit a limited number of product types and fields within your list table.
Neither of these options fits the bill for editing multiple products at once.
In addition to these options, WordPress and WooCommerce come with built-in bulk-editing features. We won't pretend this isn't a life-saver for small online stores and websites for bulk-editing product attributes and mass-deleting items.
However, WordPress and WooCommerce's bulk editing functionality is limited, most notably:
You can only edit the number of items that fit on a single WordPress Dashboard page. If you have products across multiple pages, you'll have to handle your edits in batches, as you can only bulk edit one page at a time. With our example of 250 products, these batches will soon add up to be tediously time-consuming.
There are minimal filtering options. You can filter by category, stock status, and product type. But what about size, price, variations, and any other product/post attribute you might be looking for?
WooCommerce's native bulk editing tool doesn't work for grouped or variable products or product attributes. So you can't update product variations in bulk. Long story short, if you have multiple variations per product, you could easily spend hours making manual edits.
Needless to say, WordPress and WooCommerce bulk editor could benefit from some improvements, so that you can:
Edit all product information across product variation
Edit without any limitations on the number of items you're modifying in one go.
Create and use custom fields
So how do you bypass the restrictions posed by vanilla WooCommerce? It's easier than you think:
Introducing: The Admin Columns Pro Plugin
If you want more control over your WordPress dashboard, Admin Columns Pro (AC) is the right bulk edit plugin for you. AC comes with a powerful toolkit that takes your WordPress and WooCommerce Admin panel to the next level by adding extra functionality to your list table.
AC's most notable features include being able to:
Make any column sortable
Edit any column inline for quick edits
Export any content to a downloadable CSV file (Excel)
Bulk edit products, posts, and product variations
Smart filter products and content to find exactly what you're looking for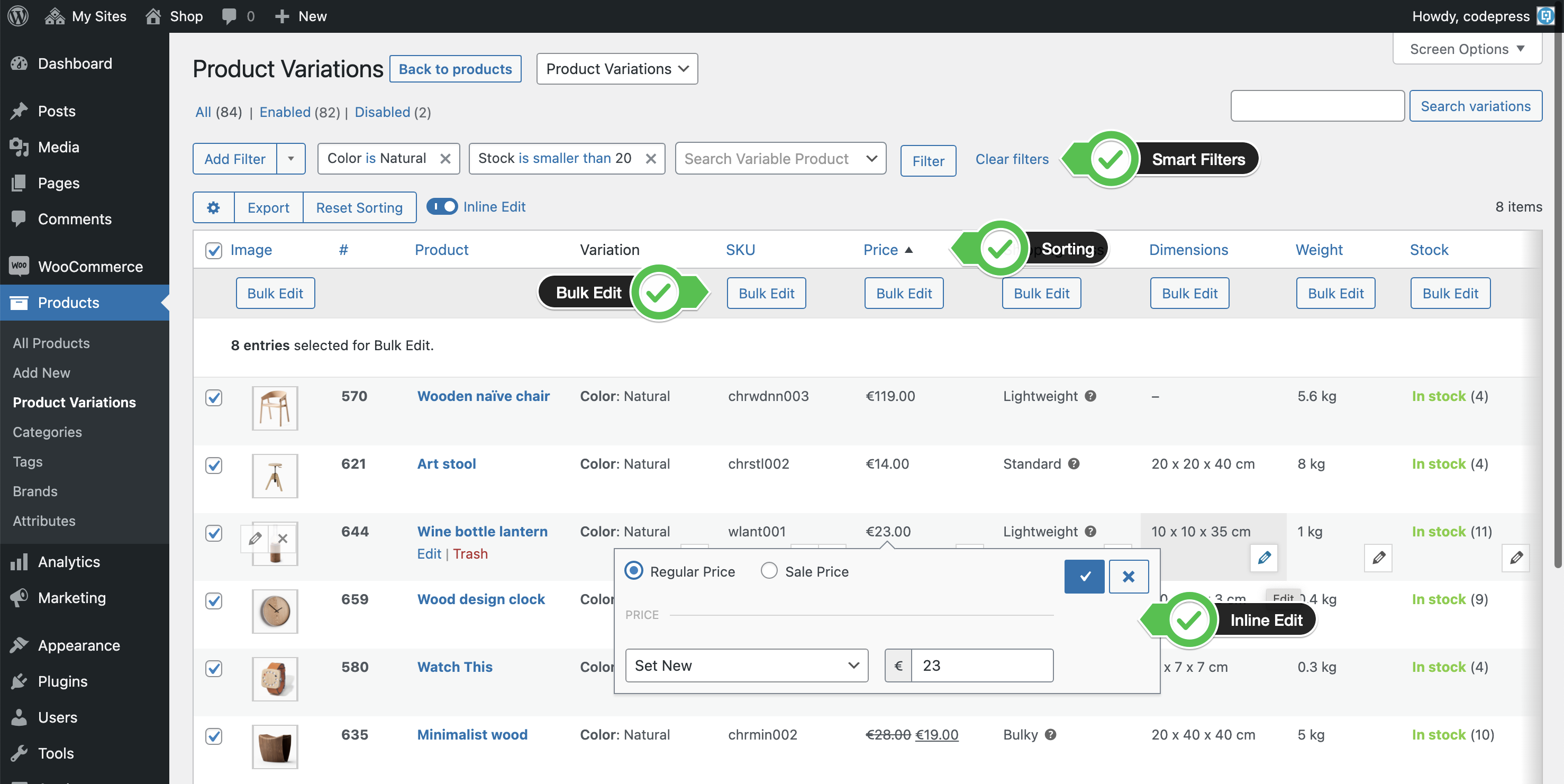 You gain full control over your custom tags and fields and save hours on repetitive tasks. Unlike WooCommerce's native bulk editor, AC doesn't just permit you to edit items on a single page of your dashboard. Instead, you can make quick edits to all your products and apply filters to find the product variations and product categories you're looking for.
You can even add extra admin columns to better categorize your posts and products, making quick, in-depth editing easier. You can also insert column sets to switch between sets of information to suit whatever task you're completing. For example, you could create an SEO view showcasing the product's description, meta tags, and SEO score. In contrast, your copywriter view might display the read-time of a post, word count, and categories.
Editing Product Variations Using AC Bulk Editing
To start editing your WooCommerce store in bulk, follow the steps below:
Head over to your product page and click the eye next to the product variation name. This will open all product variations associated with the item.

Select all variations by clicking the checkbox in the top left
Click on 'bulk edit' for the columns that need bulk editing, for instance:

Product price
SKU
Stock
Description
Dimensions
Product image
Shipping class
Weight

Bulk edit the "Price" of WooCommerce Products Variations
Each edit option comes with its own parameters. For example, you can modify pricing to increase or decrease by a set percentage amount. You can also opt to round the final amount and schedule the change to occur whenever you want.
You can even add custom attributes to an item via bulk or inline editing. This makes adding extra product variations to stock, like color or size, easy.
Refine Your Search Using Smart Filters
It's easy to refine your search for product variations you want to edit. Using smart filters, you can quickly search for product attributes detailed in any of your columns—for example, prices, SKU, product titles, product variations, custom fields, etc. This means, in the scenario outline above, you could use AC's smart filters to quickly find all 'wooden chais' and disable them within a few clicks.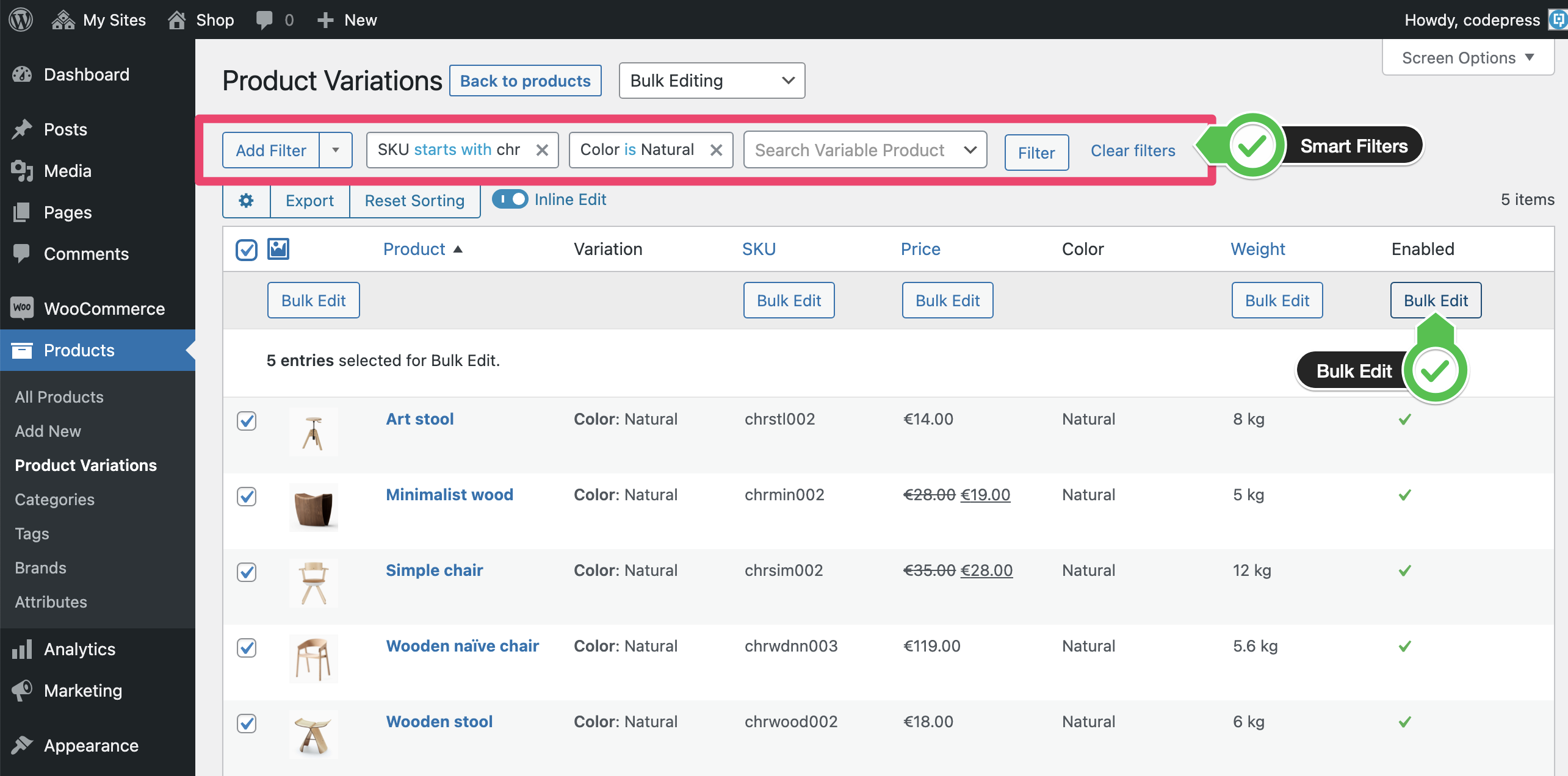 You can even apply conditions to the filtering, including specific text strings within a title or description or a particular price range. Below we've listed some of the smart filtering conditions available:
Starts with….
Ends with…
Contains…
Doesn't contain…
Is smaller/larger than
Is between…
Is equal/not equal to…
Has not been set
At this point, it's also worth noting, you can sort all columns using a traditional dropdown menu to see what's top or bottom of the range. For instance, you could easily list products in ascending order of price or products in descending order of size. These are just two examples, but you get the idea.
Other Great WooCommerce Features Admin Columns Has for Bulk Editing
It's useful to know that AC can do more than just help you manage your product variations.
You can also:
Edit any default product or custom field in bulk, including meta fields like descriptions, titles, media, tags, stock quantity, location, etc.
Make small changes to individual products using inline editing. This is similar to WooCommerce's native quick-edit feature but comes with a more intuitive interface and supports a wider variety of product fields.
Filter your searches by category, title, date, SKU, tag, price, and product attributes.
Work with large data sets – you can edit a large number of products because there are no limits based on pagination. Whether you want to edit 1 or 100,000 posts and products is entirely up to you.
You can access all the above functionality from inside the WordPress Admin area you're already familiar with. So if you've been running your WordPress site for a while, you should have an easy time adjusting to the AC plugin.
Leave Hours of Manual Editing Behind with Admin Column's Bulk Editing for WooCommerce
Tediously clicking into every product variation to make simple changes is ancient history. You have more important things to focus on, and Admin Column frees up your time to do just that.
With this helpful admin tool, you can easily select and edit as many product variations as you want. Make small or large edits in just a few clicks and keep your catalog up-to-date in a matter of minutes.
With smart filtering and custom columns and column segments, you have full visibility over your WordPress content and WooCommerce product archive. You're empowered to organize your online store's backend the way you want, making day-to-day tasks, and eventually, scaling your business so much easier.
Does that sound good to you? Make the most out of Admin Columns' 30-day moneyback guarantee and start saving time managing your WooCommerce store.