How Admin Columns Pro helps filter and edit Gravity Forms entries
Are you working with Gravity Forms on a frequent basis and are you spending a lot of time filtering and editing entries? Is searching your Gravity Forms entries with just one field not sufficient for what you would like to do?
At first glance, it might seem that the Gravity Forms plugin already has a lot of the functionalities that Admin Columns Pro (ACP) offers. But zooming in will prove that this is not the case. Using ACP together with Gravity Forms will make your work processes for form entries a lot easier.
GravityWP, a well-known developer of add-ons for Gravity Forms, tested the integration with Admin Columns Pro. They identified multiple advantages for Gravity Forms users. In this tutorial, we will summarize the main conclusions of GravityWP's extensive testing.
Create and save complex filters
One of the first things that stand out after testing is that -by default- Gravity Forms will let you search and filter your entries based on one field only. When you add Admin Columns Pro to the equation you can filter your submissions with as many fields as you like. This especially comes in handy when you are working with extensive forms and you are only interested in specific entries from a specific time frame. The option for sticky headers helps you keep track even more. And then, when you are satisfied with your complex filter, you can save it and even make it available to other users of the admin panel with the necessary rights.
Bulk edit entries
So when you have your complex filter in place, bulk editing form entries becomes a walk in the park. By creating complex filters or using saved filters you can easily find and select the entries that you want to adjust. With Admin Columns Pro it is no longer necessary to open individual entries. You can keep working from the Gravity Forms entries page. And from the overview you can edit as many entries as you like at once, saving you a lot of time.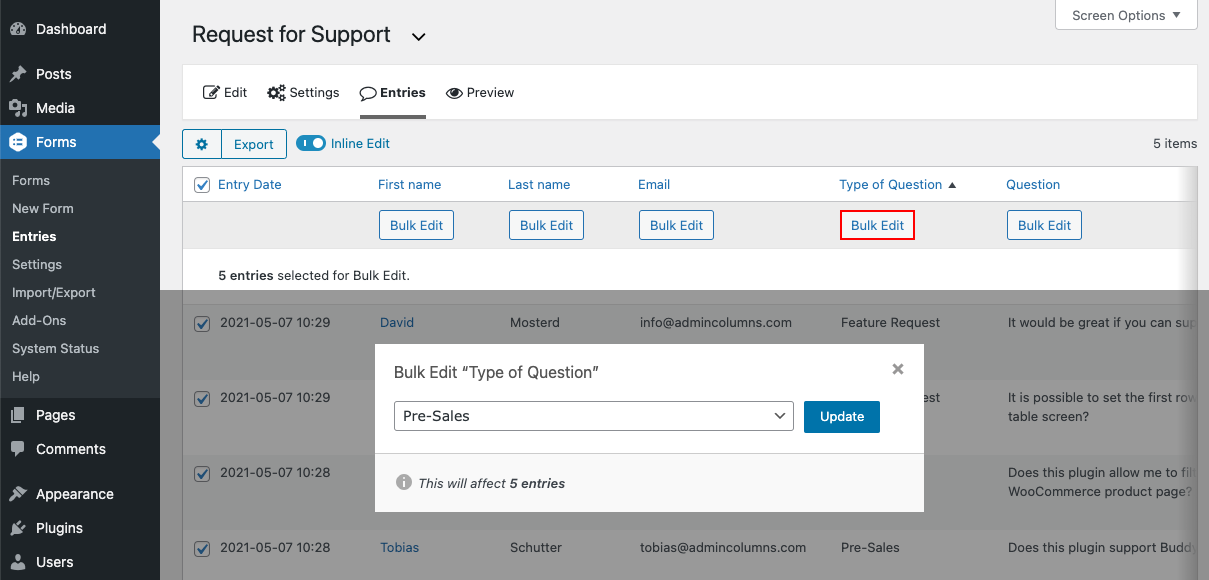 Inline edit entries
When you want to make smaller adjustments, then inline edit functionality is the best fit for you. With this feature, you can edit and change a single field value or just delete the entry in question. Again, this functionality works on the Gravity Forms entries page so you can keep working in the overview mode.
And add even more functionalities to Gravity Forms
And of course, we have more specifics on the Gravity Forms integration available for you. If you want to know all the details then you can check out our Gravity Forms integration page.
Interested in reading the tutorial from GravityWP? Check it out here!