Ninja Forms and BuddyPress Integrations
We just released two new integrations for the popular WordPress plugins Ninja Forms and BuddyPress. If you use one of these plugins, read on to find out how Admin Columns enhances them.
Ninja Forms
Ninja Forms is one of the most popular form plugins for WordPress. With nearly one million installs, it's safe to say many users trust this plugin to create and manage their forms. It comes with an easy to use form builder and it's a breeze to integrate a form into your content. It's easy to use for everyone, including developers. With well-placed hooks and filters, you can easily extend or customize Ninja Forms. Submissions are saved in the database and displayed in an overview screen very similar to that of posts, pages, and users.
Ninja Forms has done a great job in showing submissions in par with WordPress screens, showing each form field as a separate column. With Admin Columns you can also filter, sort and edit these form fields. To name a few examples: sort your entries based on a rating you asked, filter out all users who answered "yes" to a certain question or, mark certain submissions as interesting or done. Based on how you designed your form, there are many more possibilities where Admin Columns could be a very handy or asset.  You can find more details about this integration on the Ninja Forms feature page.
BuddyPress
BuddyPress is a WordPress plugin helps you to create a social network within nearly any WordPress theme. BuddyPress is focused on ease of integration, ease of use, and extensibility. It allows your registered users to create profiles, have private conversations, make connections, create & interact in groups, and much more.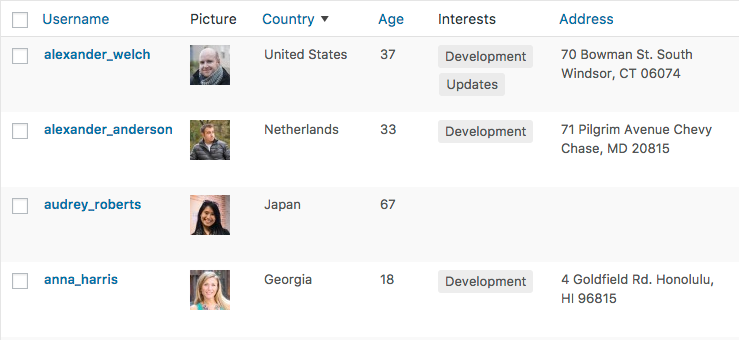 A prominent feature of BuddyPress is the ability to add custom fields to a user profile. Admin Columns helps you to manage these fields in an easy way. You can sort, filter and edit all the custom fields from BuddyPress directly from the overview screen for users. It works with WordPress multisite and has support for Groups as well. You can find more details about this integration on the BuddyPress feature page.
That's all for now. We'd love to hear what you think about these integrations. Any feedback is welcome!
---
View changelog Admin Columns Pro: Ninja Forms add-on and BuddyPress add-on