Release 5.5.2: Gravity Forms support and Sticky Headers
After a long wait for some of you, we're excited to announce our latest integration for Admin Columns Pro: Gravity Forms! With this new integration, you will manage your Form entries in Gravity Forms with ease. Aside from the column management feature in Admin Columns, we made sure to integrate our Pro features like Smart Filtering, Editing, and Export as well. We also implemented a much-requested feature to make the table headers sticky. You can find more information about this feature below.
The power of Gravity Forms
Creating beautiful, powerful, and accessible forms in WordPress doesn't have to be a difficult or boring job. The market-leading plugin 'Gravity Forms' allows you to manage forms and form submissions with ease. It's a must-have form editor that adds a drag-and-drop feature to build advanced forms for your website.
Improve entry management with Admin Columns Pro
Once you have your forms in place and you start collecting data from your entries, you probably want to analyze your data on a beautiful page. Gravity Forms already comes with specific entry pages for each form, but we believe that we can make those pages even better by applying our own column manager and features. With Admin Columns you can now easily change the column order, width, and labels on the overview and also make those columns searchable, editable, and exportable.
The most request feature for Gravity Forms support in Admin Columns is editing the data of entries. Manage your entry data fast and easy with out inline- and bulk edit feature to make adjustments in no time.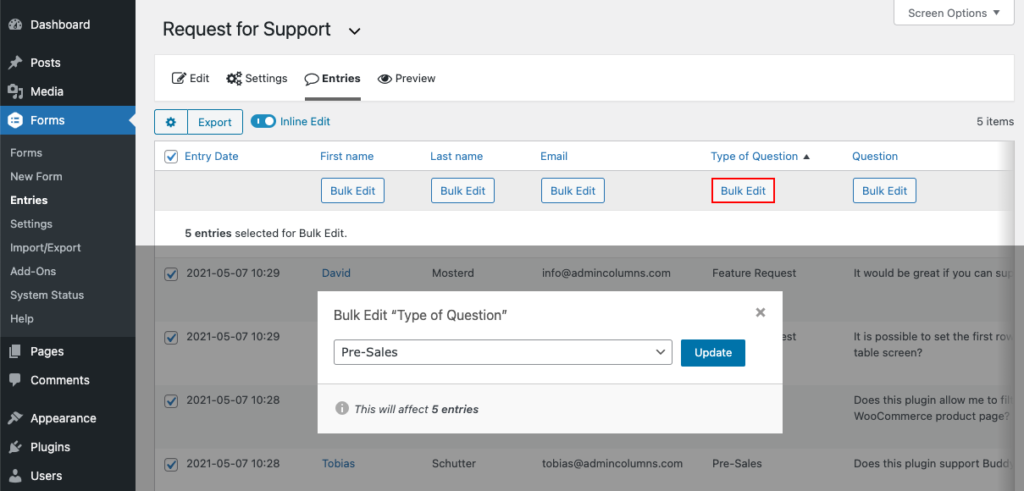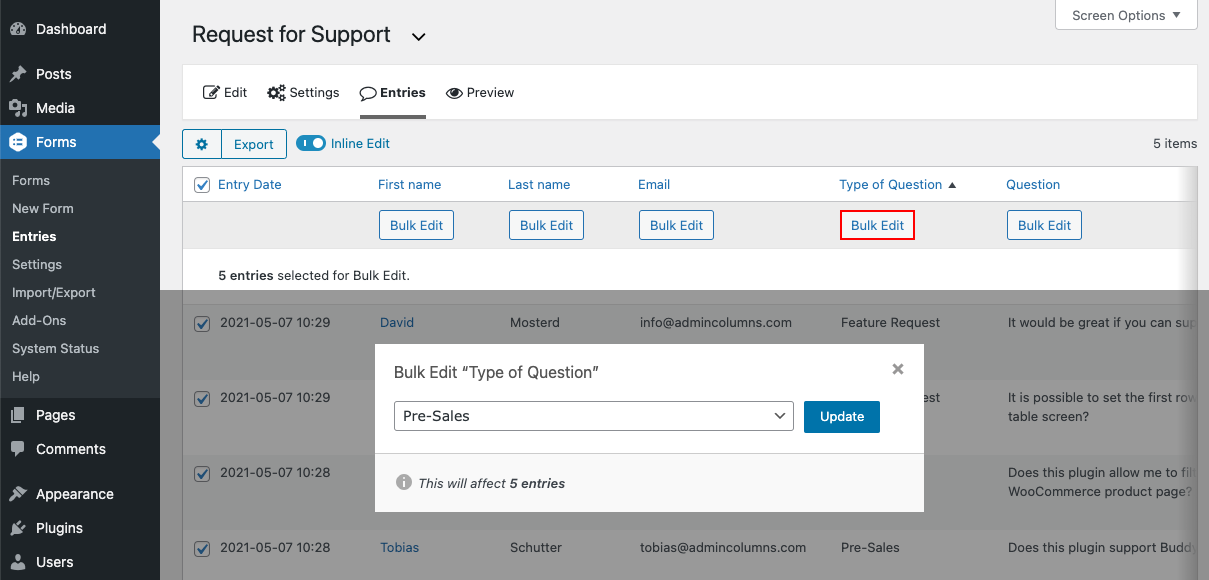 Gravity Forms has its own way to filter the page on data, but filters cannot be combined. With the Admin Columns Smart Filter feature, it is possible to find your entries faster than before.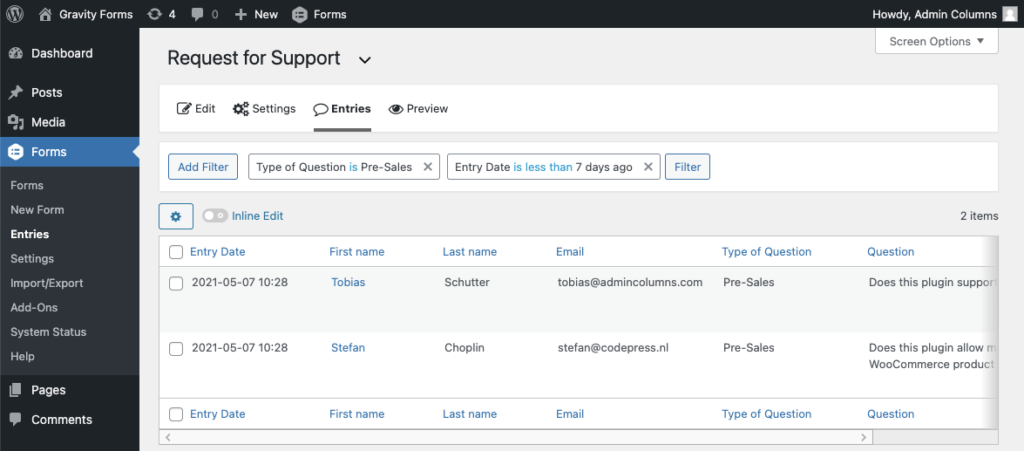 Aside from these major improvements, Admin Columns also comes with other useful features like: Horizontal Scrolling, Hide elements on the page, multiple column set support, and our latest feature 'Sticky Headers'.
Read more about the Gravity Forms integration on our feature page.
Sticky Headers
A much-requested feature is a way to make the column headers in the tables sticky. This allows you to show many columns and rows on the table while still knowing what data you're looking at. Especially when you display many rows, it is sometimes hard to see to which column the data belongs. With this new feature, you can simply make the table headers sticky in the Screen Options menu on the top right of the table screen.

Of course, sticky headers also works with Horizontal Scrolling enabled.

Love to hear from you
If you're interested in the Gravity Forms integration or the new Sticky Header feature, make sure to update to the latest 5.5.2 release.