Gravity Forms Integration
Gravity Forms is one of the most popular Form management plugins for WordPress at this moment. Managing forms is one thing, but managing your submissions, is a second. Although Gravity Forms already provides similar features for their entries as Admin Columns, we believe that our Gravity Forms integration for Admin Columns Pro makes managing entries even easier.
Gravity Forms and Admin Columns
With the Gravity Forms integration for Admin Columns Pro, you'll be able to manage your form entries with ease. Use our familiar column manager to display only the fields that you like. Create multiple column sets for different tasks or different users and easily find, sort, and even edit your entries right from the entry pages.
When creating forms with Gravity Forms, you already have a column available for every field that you create. Admin Columns extends all those columns with pro features like Editing, Smart Filtering, and Export. All default Gravity Form fields are supported: Text, Textarea, Drop Down, Multi Select, Number, Checkbox, Radio Buttons, Name, Date, Time, Phone, Address, Website, Email, File, List, Post Fields, and Pricing Fields
Inline and Bulk edit your Entries
Wouldn't it be great to modify your entry data right from the overview? With our Inline Edit feature, you'll be able to change it to whatever you like, without opening the entry detail page first. Simply click the pencil icon next and change it to whatever you like.
Ever needed to update the same piece of data on many entries? Look no further because the Bulk Edit feature in Admin Columns allows you to edit the data for a column for all selected entries. You can use the Smart Filtering feature to target specific entries and update them all at once.
Easily find entries with Smart Filtering
Although Gravity Forms already has a way to filter the data on the table based on a column, Smart Filtering allows you to search on multiple entry fields at once with more control. Here are some example of what you can do with Smart Filtering
Search Entries within a specific date range
Search numeric fields within a range, or greater or less than a specific number
Search for exact matches within a text field or only parts of the string.
When you often find yourself setting the same filters for an overview, you can easily save your filters with our Saved Filters feature to easily select it, the next time you visit the page. It is even possible to set the filters as a default for your overview page to have the entries pre-filtered, every time you visit a specific entry overview page.
Export Entries to CSV
With Admin Columns it is possible to export the data that is available on the overview to a CSV file. And the best thing is, it will work together perfectly with the applied filters on the entry page and even takes sorting into account.
Multiple table views for Entries
With Admin Columns Pro it's possible to create multiple column sets for the same entry overview. So instead of managing the columns each time when you want another view, you can now create multiple sets for different tasks and easily switch between those views with one click. And even when you want to show all available fields for your form, you can still fit all the fields on the screen with our Horizontal Scrolling feature.
Horizontal Scrolling
When you have a lot of form fields, you probably end up with a lot of narrow columns on the list table. By default in WordPress, you'll need a large screen to fit all these columns on the table. Or you're already using the screen options to toggle the visibility of some columns to make it not too crowded. With our horizontal scrolling feature, this is no longer an issue. Simply enable horizontal scrolling and give your columns the width that is needed to display the data in a convenient way.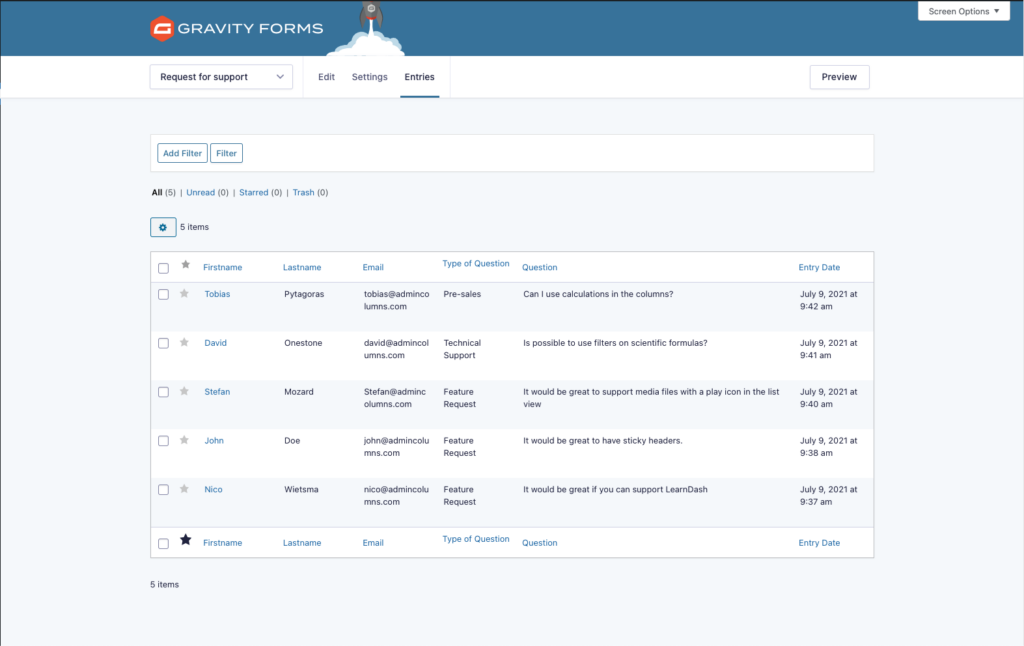 Sticky Headers
When you have a lot entries (or posts) you might get lost on what data is in a specific columns. With sticky headers your headers stay visible so you can simply double check what column you're looking at.