Multisite Columns

With Multisite Columns, you can see some interesting metrics about your network sites in a glance. You can see just about any piece of information that you would normally only get if you browsed to that network site. Want to see a specific site option (and change it), see which themes and plugins are available and in use? These and many other metrics are available to you and configured in seconds.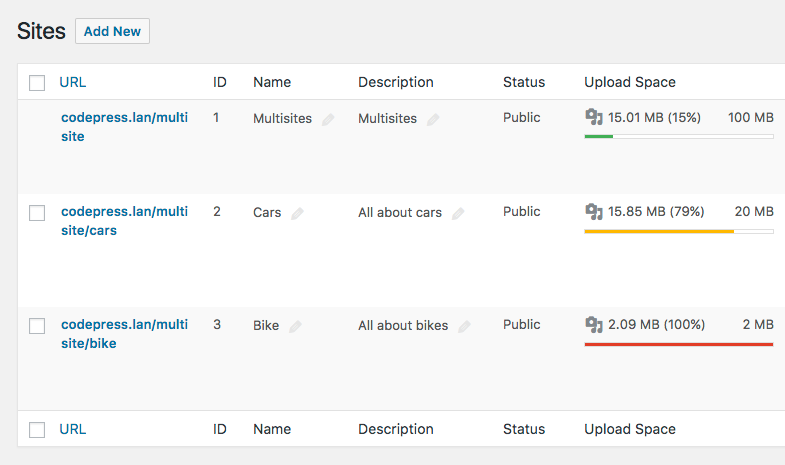 A Detailed View of Your Network
We have selected just about any piece of relevant information we could think of and made it into a column. We have created these columns with a single aim: to help you manage your network more effectively.  Have a look at all the columns available on the Network Sites screen:
Network Sites Columns

Display

Editing

Custom

Actions

Actions Column

The actions column will display the action bar that would normally display when you hover the row. There is the option to show a text link or icons.

This column will hide the original action bar that is added to the primary column, usually the first column.

Blog ID

Comments

Comments Column

Shows how many comments each WordPress network site has.

As a default, the column shows the total number of comments per network site, but you can also show a comment count for a specific status:

Total
Approved
Pending
Spam
Trash

Domain

Name

Options

Site Options Column

The options column for WordPress Multisite Networks shows any value from the site settings.

The list of options available is really long, over 100 options can be changed on this screen. With the site option column, you can now display any of these value on the overview page. That mean's you do no longer have to go through each site to see their settings.

Select the option from the column settings:

The column shows the value of each setting on your list of sites:

Edit your site option

The site options can be edited right from the column page itself. Enable inline editing and you can change any site setting.

Path

Plugins

Site Plugins Column

Shows you which plugins are network activated and which are unique to this network site.

Post Count

Shows how many posts a network site has.

Site ID

Status

Storage Space

Upload Space Column

Uses a graphical display to highlight how much space is used, left and available in total for each WordPress network site.

Theme

Informs you which theme a network site is using and which themes are available for it.

Default

Last Updated

Registered
Manage  Your Network Users
You can manage the users in your network with real ease. Display any piece of content (including custom fields) of your users. Many columns can also be sorted and edited to save you even more time.
Network Users Columns

Display

Sorting

Filtering

Editing

Custom

Comment Count

Description

Display Name

First Name

Language

Last name

Nickname

Post Count

Profile Picture

Registered

Roles

Show Toolbar

User ID

Visual Editor

Website

Custom Field

Advanced Custom Fields

Do you use the Advanced Custom Fields plugin? Then we have the perfect integration for you. With our ACF Column, you can add any field, like text or an image, to your WordPress list table.

Default

Email

Name

Posts

Site Role

Username
One License, Unlimited Sites
Would it not be handy if you only had to fill in your license once for all your network sites? (Yes, of course!) In the settings menu of your network, you can activate Admin Columns and have it working for all your network sites.