With Multisite Columns, you can see some interesting metrics about your network sites in a glance. You can see just about any piece of information that you would normally only get if you browsed to that network site. Want to see a specific site option (and change it), see which themes and plugins are available and in use? These and many other metrics are available to you and configured in seconds.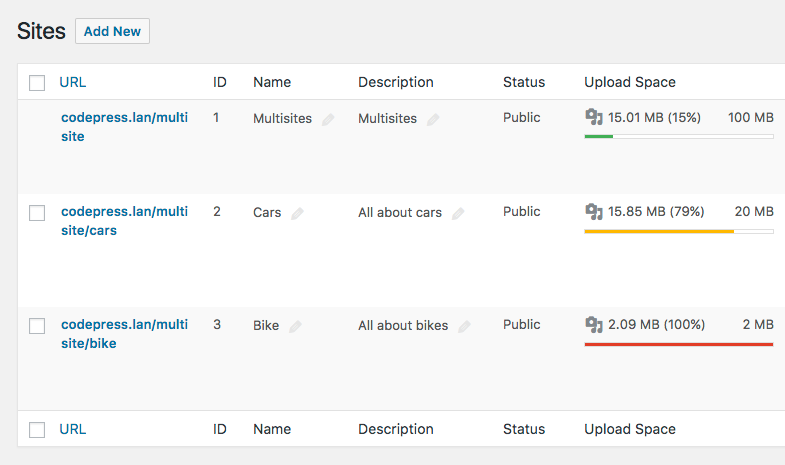 A Detailed View of Your Network
We have selected just about any piece of relevant information we could think of and made it into a column. We have created these columns with a single aim: to help you manage your network more effectively.  Have a look at some of the columns available on the Network Sites screen:
A site options column: View and edit any option associated with a Network site
A used space column: Uses a graphical display to highlight how much space is used, left and available in total for a network site
A themes column: Informs you which theme a network site is using and which themes are available to it
A plugins column: Shows you which plugins are network activated and which are unique to this network site
A post and comment count column: Shows how many posts and comments a network site has
You might have noticed it; these are exactly the columns that are displayed in the visual on top of this page.
Network Site Columns

Editing

Custom

Comment Count

Domain

Options

Path

Plugins

Post Count

Site ID

Status

Theme

Upload Space

Default

Last Updated

Registered
Manage  Your Network Users
You can manage the users in your network with real ease. Display any piece of content (including custom fields) of your users. Many columns can also be sorted, filtered and edited to save you even more time.
Network User Columns

Sorting

Editing

Custom
Advanced Custom Fields

Comment Count

Custom Field

First Name

ID

Last Name

Post Count

Registered Date

URL

Visual Editor

Default

Email

Name

Posts

Role

Username
One License, Unlimited Sites
Would it not be handy if you only had to fill in your license once for all your network sites? (Yes, of course!) In the settings menu of your network, you can activate Admin Columns and have it working for all your network sites.