Edit WordPress Content lightning fast
Edit any WordPress content with inline editing
Get Admin Columns Now
Admin Columns does a lot more than just let you change what columns are displayed on your editing pages. Our WordPress plugin also offers direct inline editing. This quick edit WordPress solution greatly reduces the time you spend administrating your website.
Editing Content in WordPress is Time-Consuming
One of the most time-consuming tasks of running a website is editing content (it is also the most boring task!). When you want to make changes to your website, you want to make them quickly. Unfortunately, WordPress makes it difficult to do that.
The bulk edit and quick edit features in WordPress can be used to make changes to titles, categories, and meta information such as author and comment status. Whilst this tool can be useful, you are quite limited with what you can do with it as you can only change predefined fields.

Making unique changes to multiple items in WordPress remains a big problem.
Let's say, for example, that you have acquired a blog which has over 1,000 blog posts. This blog has not been optimized for search engines so you have installed an SEO WordPress plugin and are going to change the SEO title, description, and focus keyword, for each blog post.
In the default version of WordPress, the only way to edit these custom fields would be to load the editing page of every single blog post and change the SEO information within that page. This is incredibly time-consuming.
Direct Inline Editing to the Rescue
Our direct inline editing features will save you a lot of time editing your content. Once our Admin Columns WordPress plugin has been activated you will see an "Inline Edit" button at the top of each edit page.
A pencil icon is then displayed next to every field on the edit page. Clicking on the pencil icon quickly loads a small pop up field that lets you modify the content. This allows you to edit WordPress fields without ever having to load other pages. And it has revisions build in. Every field has an 'undo' and 'redo' history, so using Inline Edit is also without risk.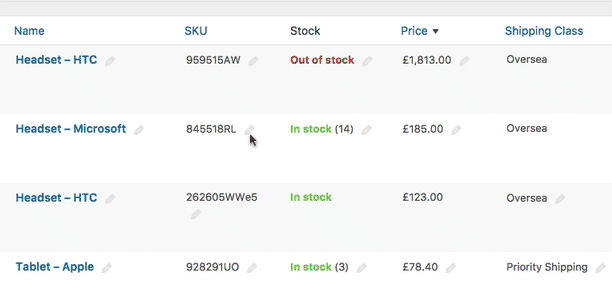 Let's go back to our example of editing the SEO information of 1,000 blog posts.
If you click on the "Screen Options" dropdown menu at the top of the page you can increase the number of items displayed on a page up to 999. Once you have done this you can edit meta information and custom fields for up to 999 items.
You can then change the SEO information for 999 blog posts in one page. This saves you the time and inconvenience of loading up 999 blog post edit pages in order to make changes.
In practice, our direct inline editing can reduce the time you spend editing information on your website by as much as four times.
If you want to save more time when building a client's website, just use Admin Columns Pro. It's so easy to add useful filterable columns, you'll regret the old days, coding each column in your theme files.
Simplicity is Key
Our sole focus with our direct inline editing tool is simplicity.
We want to simplify the process of viewing and editing information on a WordPress website and reduce the time you spend loading up pages in order to make changes.
Whether you are making bulk changes or just correcting a small mistake, our direct inline editing tool will improve how you administrate your website.
With more time on your hands, you can focus on more important tasks and projects.
The Possibilities are Endless
With support for custom post types, the possibilities of what you edit with direct inline editing are endless.
Shop owners can change product information in their WooCommerce powered store and bloggers can quickly assign featured images to old blog posts.
Direct inline editing is the smart way of administrating your WordPress website.
What are you waiting for? View our affordable plans.