Advanced Custom Fields (ACF)
Create editable columns out of your Advanced Custom Fields
Advanced Custom Fields integration for Admin Columns
Advanced Custom Fields for WordPress lets you add custom fields to your content. Admin Columns extends the functionality of ACF further by allowing you to show these fields as columns in your overview pages. It works for any content type including posts, pages, users, media, and taxonomies. It will help you to create beautiful overview screens in seconds.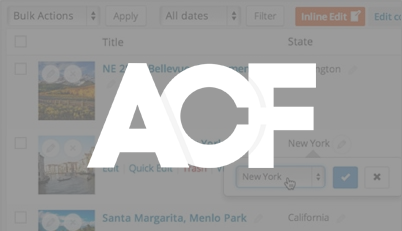 Turn ACF Fields Into ACF Columns
Let's say you have used ACF to add an image, date and text field to your posts. With Admin Columns it's really easy to show these fields as columns on the overview pages. Admin Columns will show you a list of available ACF fields. Once you select a field, it will have meaningful settings available to it: for the image field you can use a predefined or custom size, for the date field you can use a predefined or custom formatting and your text field has an optional character limit. Save, and you are done!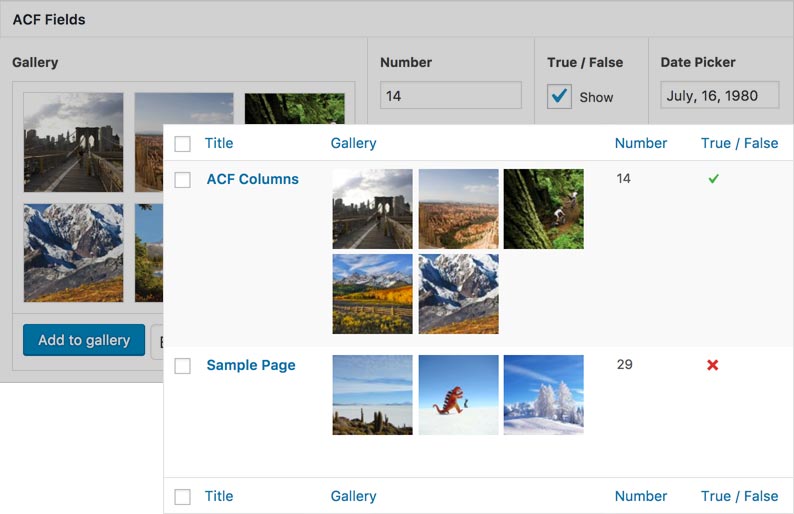 Admin Columns Pro is a super intuitive life saver!
Sort & Filter your ACF Content
You can arrange your content in a meaningful way using Admin Columns sorting feature. Admin Columns made nearly all ACF fields sortable and made sure it's fast and sorts your content the way you expect it. New to sorting with Admin Column? Read more about sorting.
With filtering, you can narrow your search by choosing what content to see. You can filter on nearly any ACF fields and even combine filters to find your content even faster. New to filtering with Admin Columns? Read more about filtering.
Save time editing ACF Content
The ability to choose from so many custom field types makes ACF an awesome plugin. But editing these fields can be time-consuming. Normally you would have to open your post to edit these custom fields. With Admin Columns your can edit your ACF fields directly from your overview screens, saving you the time from navigating in and out your posts.
We use the native ACF functions to save your data, so your data is saved properly and in the same way as ACF does.
Common Questions
About the ACF integration
Which ACF Fields can I add as a column?

Admin Columns can turn any ACF Field which displays a value into a Column. They are sortable, filterable and editable. See the full list of supported ACF columns.

Does it support ACF 4?

Yes, Admin Columns supports both ACF 4 (free version) and ACF PRO.